A good suit has the power to make your style go further. One of a suit's many powers is its versatility. To prove it, Moss Bros. have picked out some key suit trends for the season, each with a trio ways to wear them.
That's great style. To the power of three.
Neutral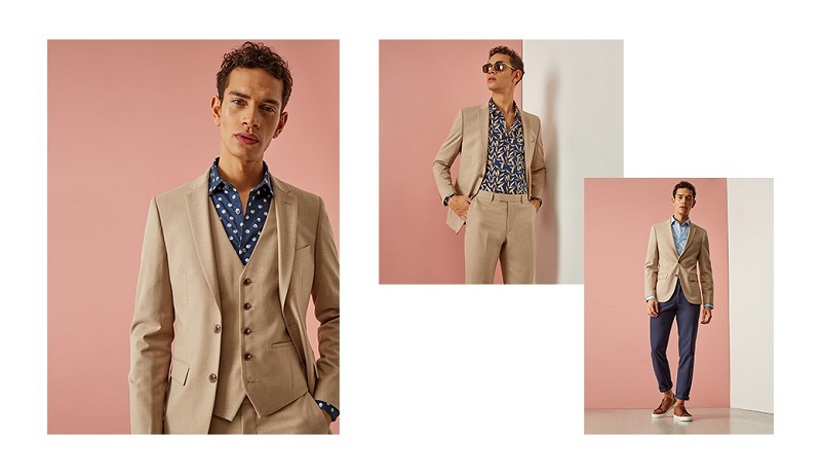 Moss Bros. have said it before and they will say it again, a sandy-toned suit will have you on surprisingly solid styling ground. Bag a three-piece in a neutral shade and prepare to power through all your spring/summer dresscodes with ease. Your new neutral-hued friend will get along with most other colours, but will really come into its own worn with blue. Try a polka dot shirt to play down the formality of your full threepiece, or lose the waistcoat and wear your jacket open over a tropical print for a relaxed summer wedding. Need something in-between? Your neutral jacket will have your back for any smart-casual event worn together with navy chinos and a crisp chambray shirt.
Pattern
Some men are wary of patterns for fear that they offer limited styling options. Not so – as illustrated here. Yes, your patterned suit will work hard at the office paired with a white shirt and a tie that matches in tone but, with the right styling, a checked suit will put in the extra hours in the evenings and weekends too.
Make your grids work for tricky smart-casual by swapping your shirt for a tonal tee and adding spotless white trainers. Or try cuffing your trousers and tucking in a polo shirt as a powerful alternative to your usual jeans-and-jumper combination.
Blue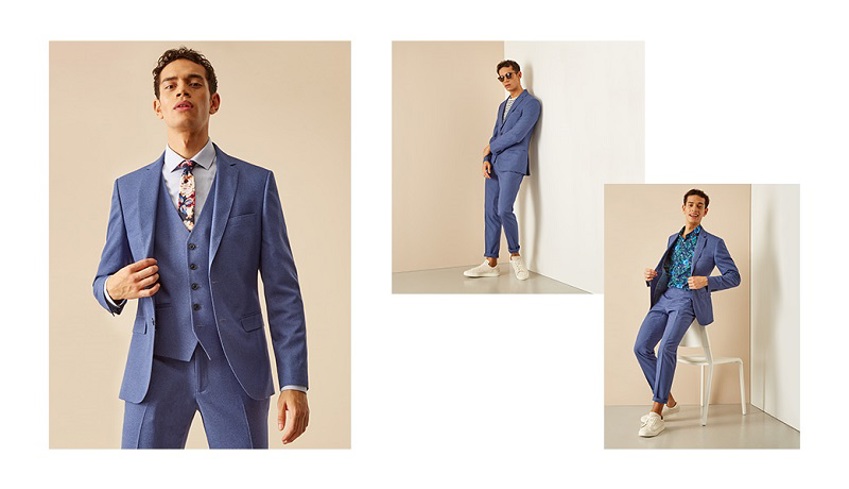 You've likely got a blue suit of some description in your wardrobe, and for good reason: they are universally flattering and a trusty option for just about any occasion. But blue can also make a powerful statement in this season's light, bright shades without losing any of its famed versatility.
A wedding is an obvious occasion to pull out a pastel suit. Keep things modern by partnering yours with a soft-hued shirt and a bright floral tie in a matte fabric like linen. Not heading to any nuptials? Go all out on a night out with a bold and bright shirt, or style your light blue suit with a striped t-shirt and casual turn-ups to add a bit of French Riviera style to your weekend-wear (even if your plans are not quite so jet-set).
Shop suits at Moss Bros at The Mall.