Introducing the new activewear collection, exclusively at M&S. This new range is for the modern mover, and it's got everything you need from Sports Bras with multiple support levels to the most lightweight trainer ever, to an array of leggings each created for different types of exercises. And there's even an Active Life range, perfect for popping to the shops or meeting your friends.
The Good Move collection is size-inclusive with all pieces going up to a size 24 and prices starting from just £15 for standard joggers. We were invited to try out the whole range and let us tell you, if you're looking for gym gear, then look no further!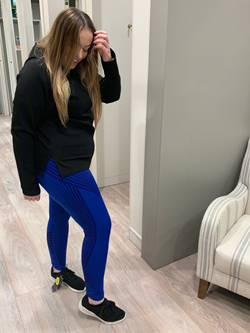 GYM
The first set we tried included the "Go Perform Compression Leggings", £45, these are their highest performance leggings which have lycra compression technology perfect for all workouts, you can really feel them holding you in. This was paired with the "Pure Cotton Enjoy Slogan T-Shirt", £12.50 and the "Funnel Hooded Sweatshirt", £29.50, this was super soft and was a lovely fit. The "Lace Up Knitted Trainers", £49.50, these were super lightweight and are knitted from Tencel, a sustainably sourced fibre with moisture management which helps make them comfortable, naturally antibacterial and vegan-friendly.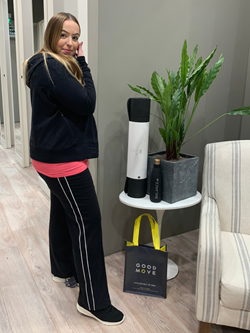 BEAUTIFUL BASICS
This range features relaxed fit pieces and is perfect gentle exercise and loungewear. We tried the "Cotton Rich Straight Leg Jogger", priced at just £15 these are super soft and are made from sustainably sourced cotton and they're quick-dry too. On top we tried the "Textured Double Layer Top", you effectively get two tops at £19.50 and the back of the tee features some detailing which really adds to the piece. To finish off the look we popped on the "Cotton Rich Zip Through Hoodie", this is also super soft and includes secure zip pockets, so your essentials stay safe, this is only £25.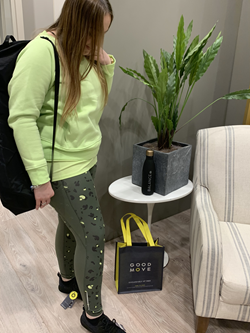 YOGA
Bright patterns and colours are what this range is made of and we loved the pieces, on the bottom we tried the "Go Train Gym Leggings" in the colour khaki mix, we loved the pattern on these, they were super comfortable, smoothing and are high waisted. These were priced at £29.50 and the quality of these would challenge some of the top sporting brands at a fraction of the cost. To coordinate this look we then added the "Feature Back Vest", £15 the "Pure Cotton Sweatshirt", £25, both in lime green, we thought this looked great together, the perfect outfit for your morning or evening yoga session.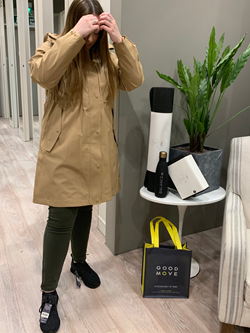 ACTIVE LIFE
If you're looking for a style that looks effortless then look no further than these pieces, we tried the "Cargo Trouser" which features a skinny fit with added stretch. The "Featured Back Short Sleeve Top" has a relaxed fit and is lightweight and again has an affordable price tag of £19.50. The key piece to this look is the "Waterproof Parka", this will have you looking stylish and set for whatever the day brings, the price tag is a little higher at £99, but for a wardrobe staple that's still a great price. The look was finished off with the "Lace Up Knitted Trainers" in all black.
What makes Good Move so good is that there is something for everyone, so whether you're just starting your fitness journey or would like to add more to your ever-growing activewear collection then M&S might just be your best place to start.
TASTER PT SESSIONS
Why not join them for a taster PT session on Friday 31st January with Georgie Burke PT. The session will include a warm-up, a taster PT and then stretching. It's also the perfect time to treat yourself to a piece or two.