Welcome back!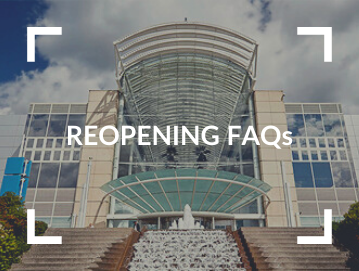 We have put lots of measures in place to help keep shoppers and staff safe as we open our doors once again. Our customers are requested to follow the safety guidelines we have in place to ensure the cente is a safe place to visit and social distancing is maintained. We also request customers wear face coverings at all times when inside the centre.
We have created this helpful 'plan your visit' guide which can help answer some of the most commonly asked questions.
We would like to thank our customers for their continued patience during these challenging times.
Opening Hours
What are your opening hours?
Our opening hours are Monday – Friday 9.30am – 8pm, Saturday 9am – 8pm and Sunday 11am – 5pm, however not all shops will be open across these hours. 
How do I know which shops are open?
Some store hours may differ, so please refer to our 'What's Open?' page for the most up to date listings, and check our website and social channels before you travel, to avoid disappointment. 
Can I come shopping in a group? 
Yes, we would ask you to keep group numbers to a minimum and observe government guidelines.
I am a key worker, can I come at any time? 
Yes, if you are an NHS worker or key worker, you can come to the front of the queue at any time - just have your work ID badge ready to show our staff.
I've got an appointment at a store, what should I do? 
Some stores may be operating by appointment only. Customers with a pre-booked appointment will be prioritised in the queuing system. Please make our staff aware of your appointment and be ready to show your booking confirmation if requested. 
Access and Parking
Where can I park when you open?
All car parks will be open and remain free of charge. For information on which car park is appropriate to park in to visit which retailer, please take a look at our guide here.
Will I have to queue to enter The Mall? 
To maintain the safety of shoppers and staff, we are allowing smaller numbers into the Mall. This allows everyone the opportunity to respect social distancing. You should expect to have to queue if there are lots of customers as we will need to manage the number of people inside.
Will I have to queue to enter the shops inside? 
Stores in the Mall will have space for varying numbers of customers depending on their floor space, so you may have to queue outside the store until a member of staff allows you access. 
Which entrances are open?
All of our lower and upper level entrances are open.
Social Distancing
What social distancing measures will I be expected to follow?
Please follow the signage directions on the floor to allow shoppers to move freely through the centre whilst respecting social distancing measures. There are 2m stickers on the floor to guide you as to a safe distance between you and other shoppers.
For more information please click here.
Where should I stand when I am queuing for a store? 
If you are queuing to enter a store, please use the marked footprint stickers on the floor as a guide to direct you. If all the marked queuing points are full, please move on to another store and return when it's quieter.
What are the social distancing plans in place in the toilets? 
To ensure the safety of all customers, not all toilet cubicles/urinals/sinks will be available in each toilet block. This is to allow for adequate social distancing when using the facilities. Please be patient with our staff, as there may be some queues to access these facilities.
Facilities and Cleaning
What cleaning measures do you have in place?
We are working to keep you safe with enhanced cleaning of touchpoints (like doors, toilets, bannister rails, lift buttons and escalator belts). There will also be hand sanitiser available at points along The Mall which we would encourage you to use. 
Are toilets open?
All toilet blocks are opening, however there are social distancing measures in place. We will be managing shopper numbers in the toilets, so please respect the social distancing methods and be aware that you may have to queue.
For more information please click here. 
Can I use baby changing and the Changing Places Facility?
Yes, these facilities will be open for customer use. 
Can I access the disabled toilets?
Yes. The disabled toilets will be open for use. 
Is Accessibility open?
Yes, the Accessibility suite will be open from 9am - 5pm. Please call ahead on 0117 915 5326 to make your booking before you visit. 
Will the Information Desk be open?
The information desk and management offices are open.
Staff are here to help you. Please stay 2 metres away from them at all times and respect their space as they assist you.
Can I buy a Gift Card/speak to someone about my Gift Card? 
Now our information desk is open you can purchase your gift card and seek advice for an existing card here. You can also find assistance and purchase a gift card online if you click here.
Will the lifts still be in operation?
Yes. Lifts are restricted to use by one household group at a time. If you can, please use the stairs or the escalators to access other levels.
Will the escalators still be in operation?
Yes. Escalator steps are marked to help you respect social distancing. Please look for the blue footprints on the step and use these marked steps only.
I need first aid - what should I do? 
Should you require any assistance during your visit, or if you become unwell, please speak to a member of the team who will be roaming in a high vis vest, and they will be able to assist you. 
Will I be able to use the phone chargers/cash points/photo booths/amazon lockers?
The phone chargers are currently out of use however, the Amazon Lockers, photobooths and cash points (except lower JLP) will be available during your visit.
To allow for social distancing, only selected cash points will be available for use.
Is there anywhere I can sit down in the Centre? 
Yes, but the number of seats has been reduced to allow for social distancing. Please do not sit in areas that have been marked with red cross stickers, as these spaces need to be kept clear. As the seating is limited, if someone else has a greater need than you, please be kind enough to give up your seat.  
Are any food or drink facilities available? 
Most of our cafes and restaurants are now open offering a takeaway service. If the weather is pleasant, we would encourage you to make use of the garden areas if you are wishing to sit down. 
Face Covering
Will I be required to wear a face covering when entering The Mall?
Visitors will be required to wear a face covering upon entry to the centre. Only those with medical conditions and disabilities will be an exception to the rule along with children under the age of 11.
Am I exempt from wearing a face covering?
Please refer to government advice here.
Where do I have to wear my face covering?
Visitors will be required to wear a face covering in all stores and communal areas.
Do I have to wear my face covering in restaurants and cafes?
Customers will be required to wear face coverings when ordering takeaway food and drink from shops.